Walnuts and Harmonies - Recording 'Who Are We Turning Into?'
Imperial Broads are now knee deep into the recording of our second album but with the anniversary of the release of our debut just around the corner we thought we'd share some photos and memories from the recording of Who Are We Turning Into?
Old school 35mm photos by Lauren
This set of photos are taken on my 35mm Minolta SLR (aside from the very first one which was taken on a little digital camera). I brought it along because I love my Minolta and the beautiful textures I get from that lens. Unfortunately I did subsequently leave the films in the car before developing them and they got a little baked but I still like the pictures here showing different aspects of our week recording at The Island. The Minolta camera doesn't have a flash and so you'll see most of these photos are taken outdoors and make it look like there wasn't quite so much work going on as there really, truly was!
The Island
A walnut farm in Wiseman's Creek where we cooped ourselves up for a week with little to distract us from making music.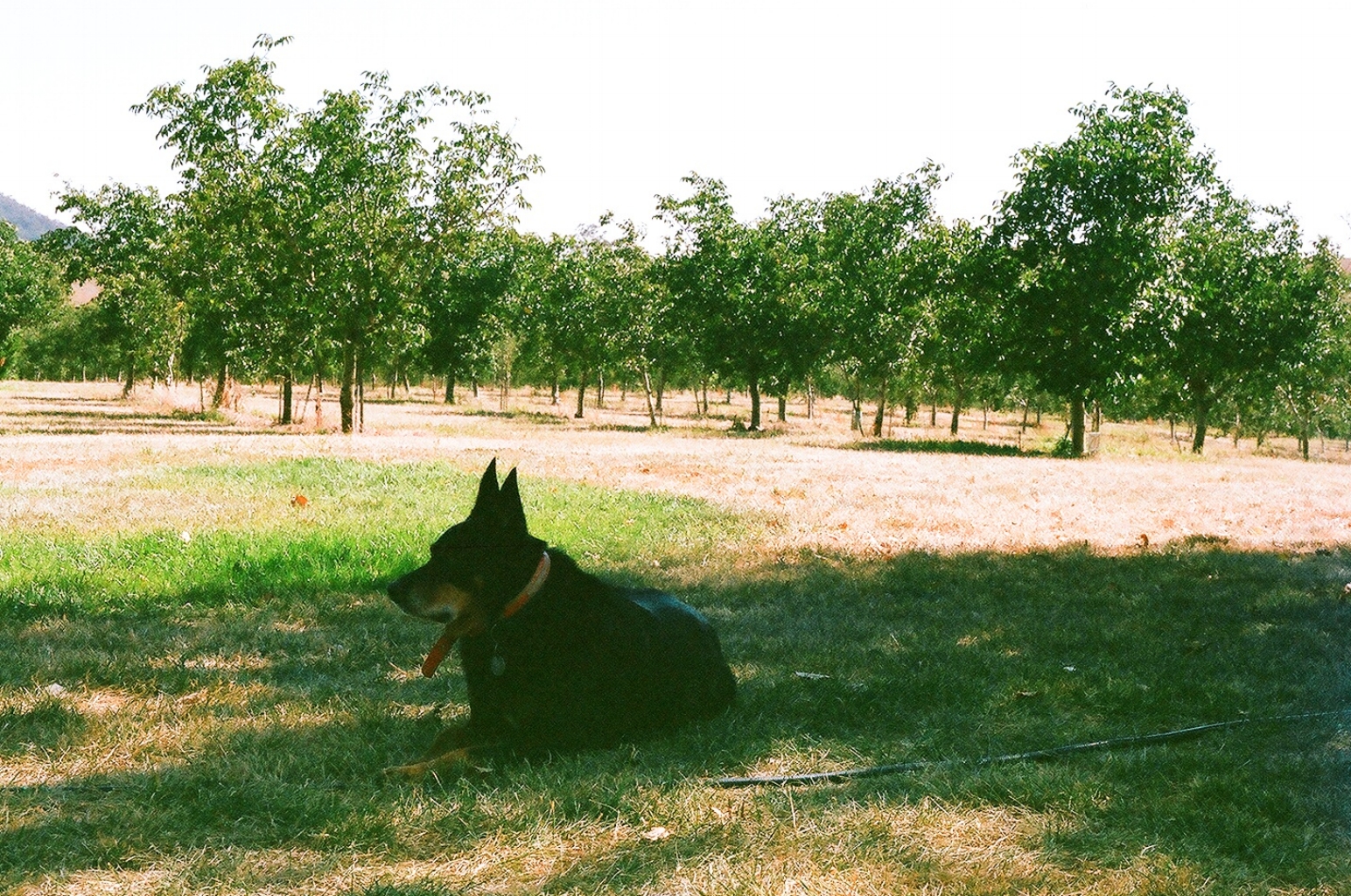 Max
Pip's family dog, Max, chilling in the orchard.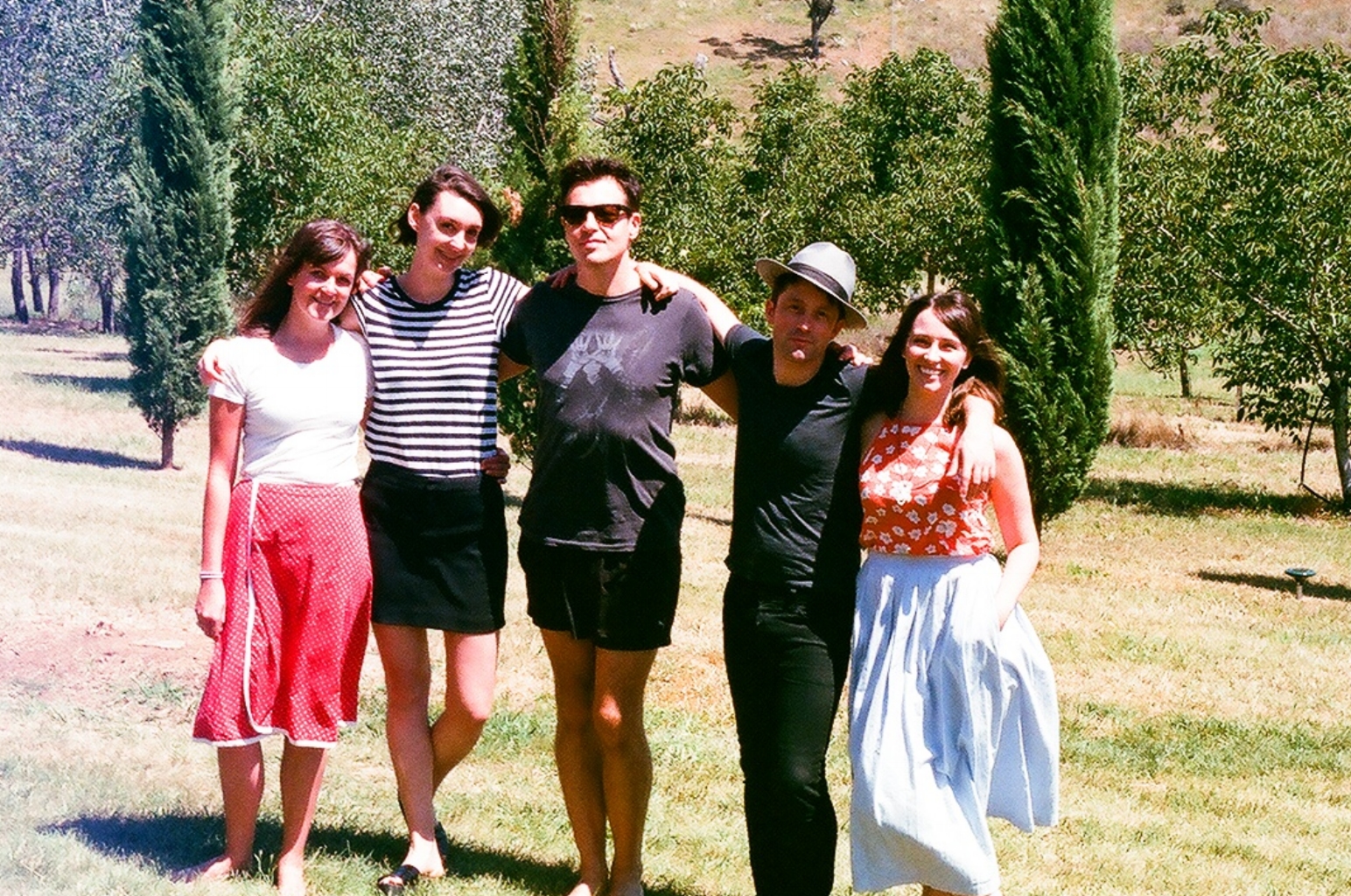 Before
Despite the protestations of the camera shy within the band I was keen to take a before and after shot of us all with our producer Liam Judson. This 'before' shot was taken on the first day after we had unpacked the gear and made some plans for the set up. Recording is an intense thing I was curious to see if we would look any different.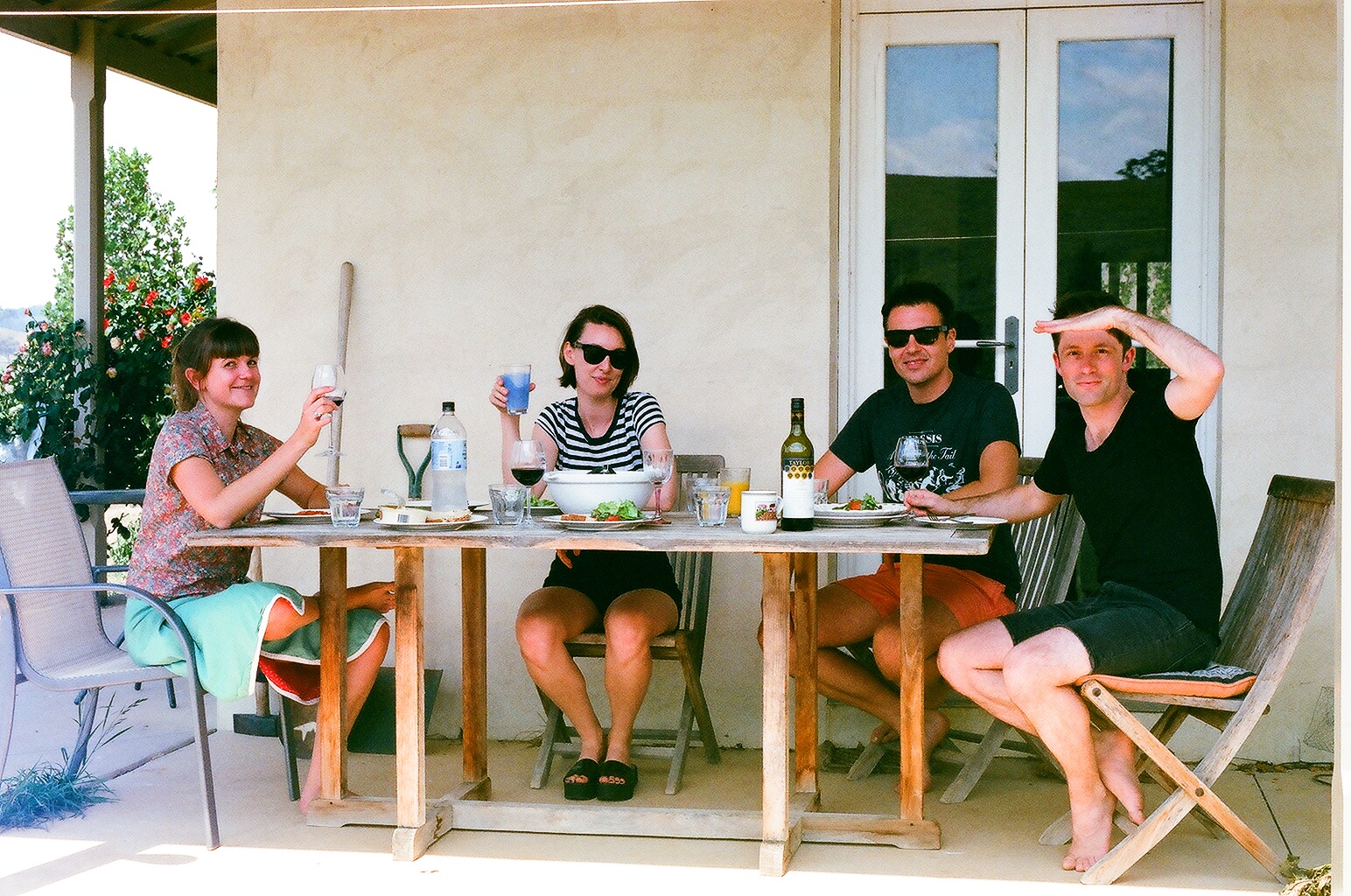 Lunch time
We look so civilised! One of the most fun things about this recording experience was cooking for each other and enjoying meals and a drink around an outdoor table with nothing and no-one to rush us. Over lunches we would talk about the song we'd been working on, talk audio references, tell stories and make plans for what was up next. Also Liam would make us laugh... a lot.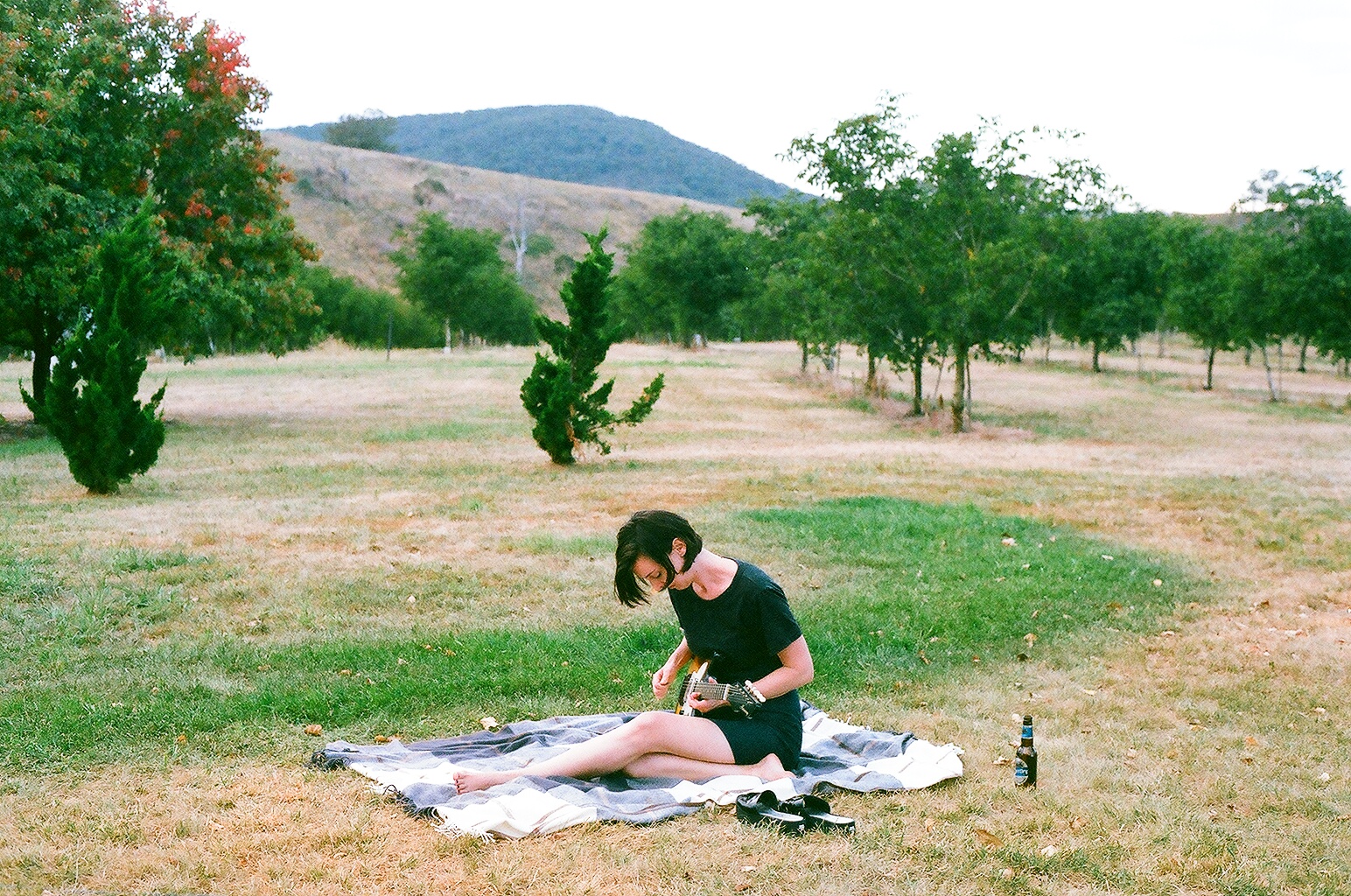 Eve
One of my favourites, this photo is of Eve working on parts on her beautiful harmony guitar while Pip is inside recording some lead lines. We did this kind of thing a lot to make the most of the time away together - when we weren't needed for a take we would play new songs to each other or work on parts for the album that weren't yet finalised. Because this session took place within 2 months of our first ever gig we really didn't have set ideas yet. We had so much fun writing with each other and working with Liam to create new sounds to make everything better! *Note the super dry in the grass - Eve is a sucker for a cheap lager!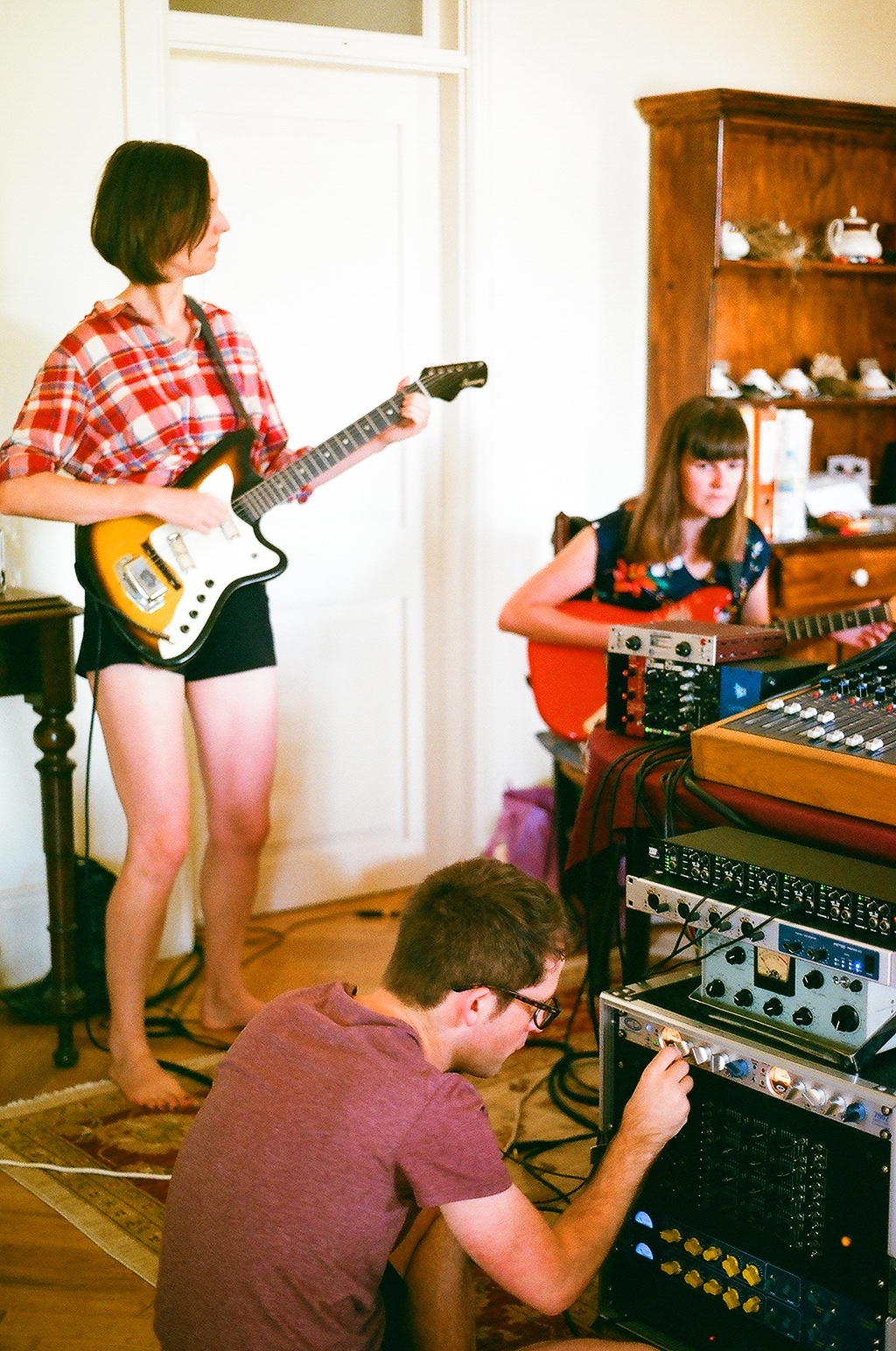 At work
Liam is a master at making alternative recording settings sound like a professional studio. Here he is tweaking some dials for Pip and Eve recording guitar overdubs. We did the bed tracks live; set up in the bedrooms and hallways behind the door pictured here. It was pretty cramped and uncomfortable so once the bed tracks were down we shifted in to the living room where we had natural light and room to swing a cat (not that we would ever do that). The amps were still set up down the hall in different bedrooms.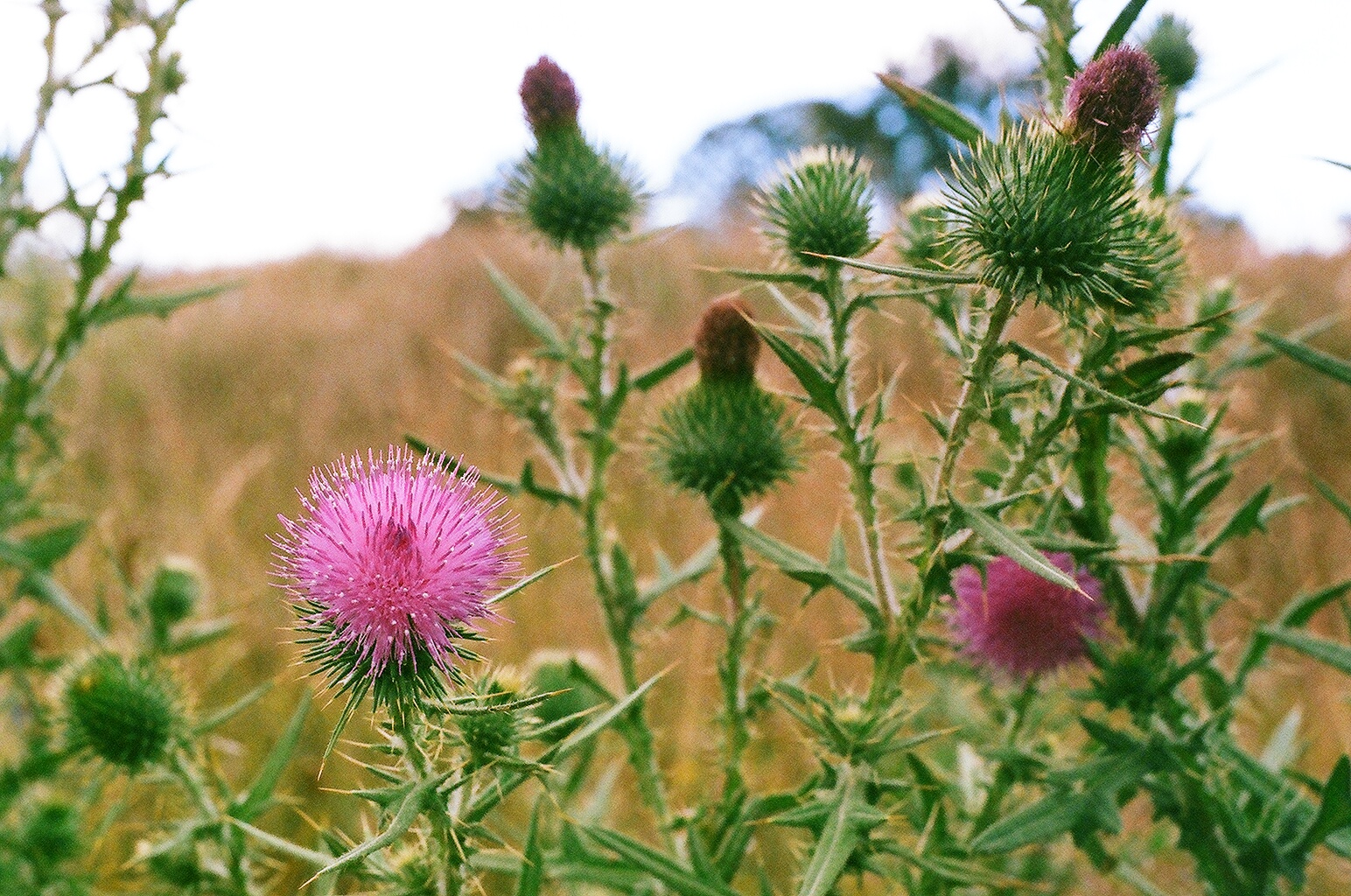 Thistles
One afternoon I got a little stir crazy and went for a run. Along the edges of the dusty road there were these luminescent pops of colour - Scotch Thistles! The previous day in the kitchen, Pip, Nick and I had been throwing around some album name ideas and one of the suggestions was Ultra-Violet (another suggestion you'll be glad was abandoned was 'The Howard Years'! ha! Pip still thinks it's comedy gold). When I saw the thistles by the road I got really excited and thought this could maybe be our album cover! We loved the idea of the beautiful but prickly look with the vivid colour. We ended up taking a bunch of photos to play around with and, although it didn't end up feeling right for the album cover, with the help of an amazing designer friend we morphed it into the Imperial Broads logo you see on all our sites and pages (and on our merch frisbees! You know you want one).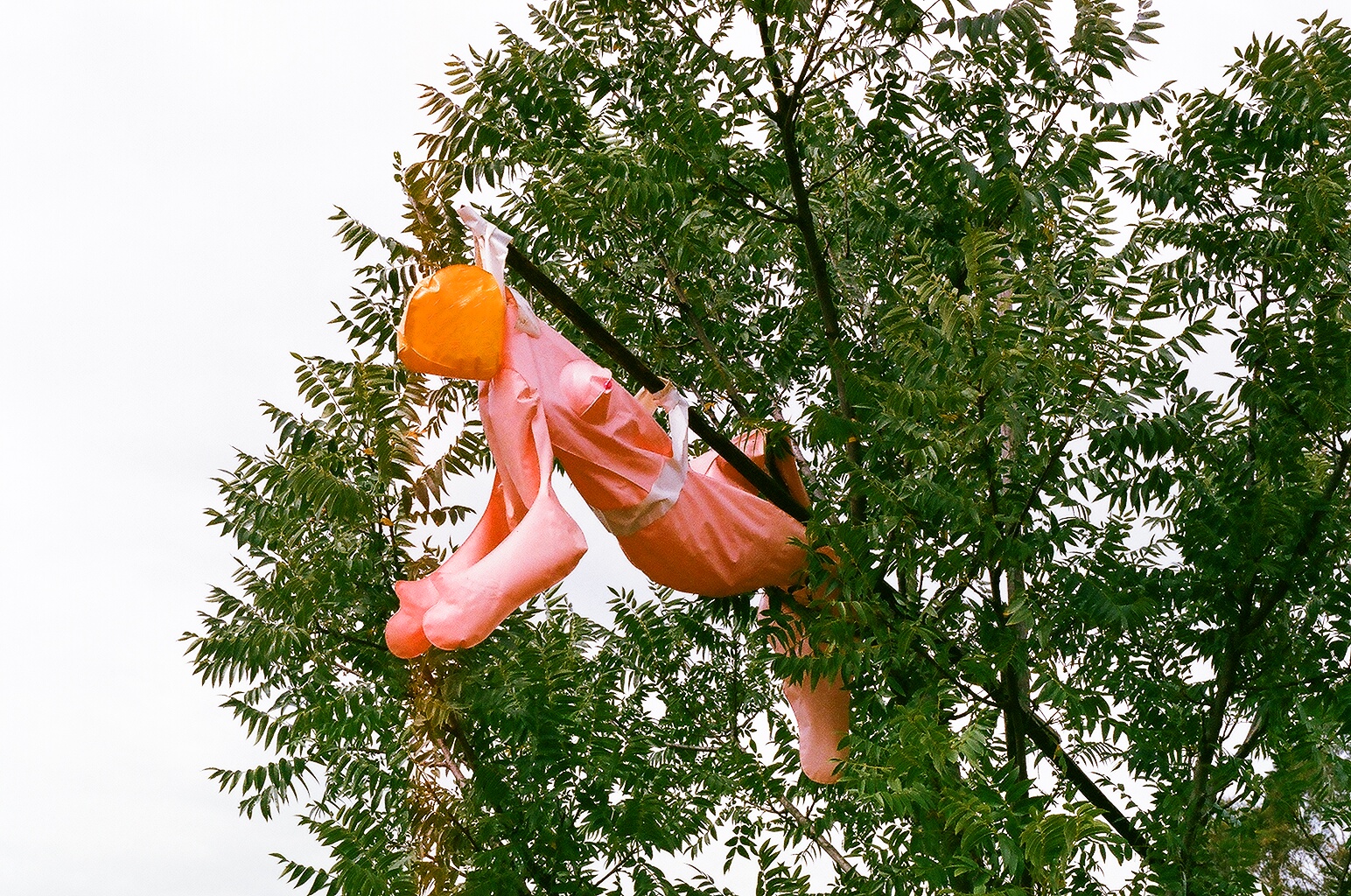 Sex dolls
Ummm.... so the orchard is scattered with sex dolls. Yeah not much more to say about that..
Ok so they're there to scare away the birds and they are seriously hilarious and creepy. One of them was a Barack Obama doll - yes that's a thing people want!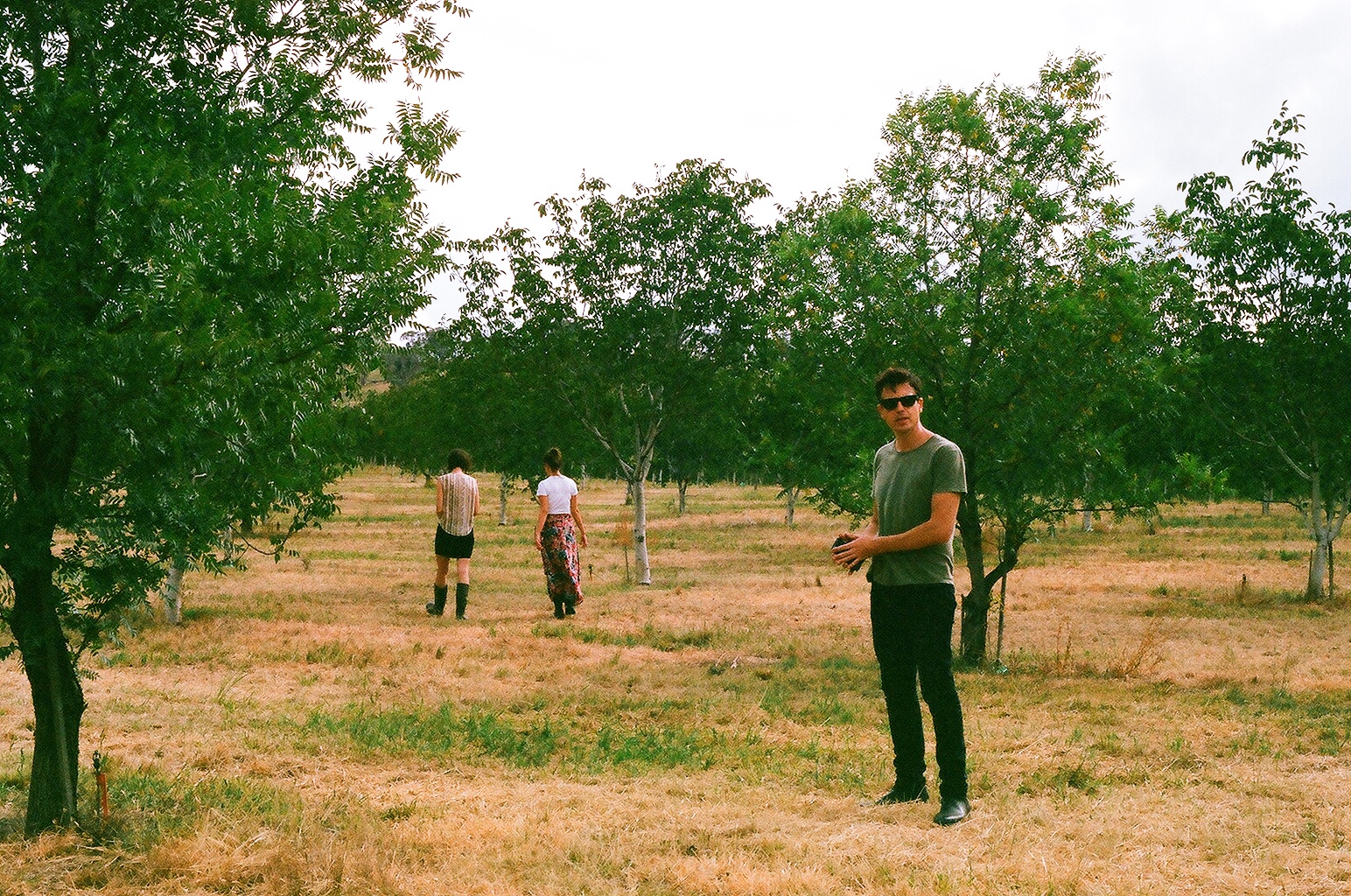 Exploring
This photo of the gang is from our last day when we all wandered around the orchard soaking in the beautiful scenery and playing spot the sex doll.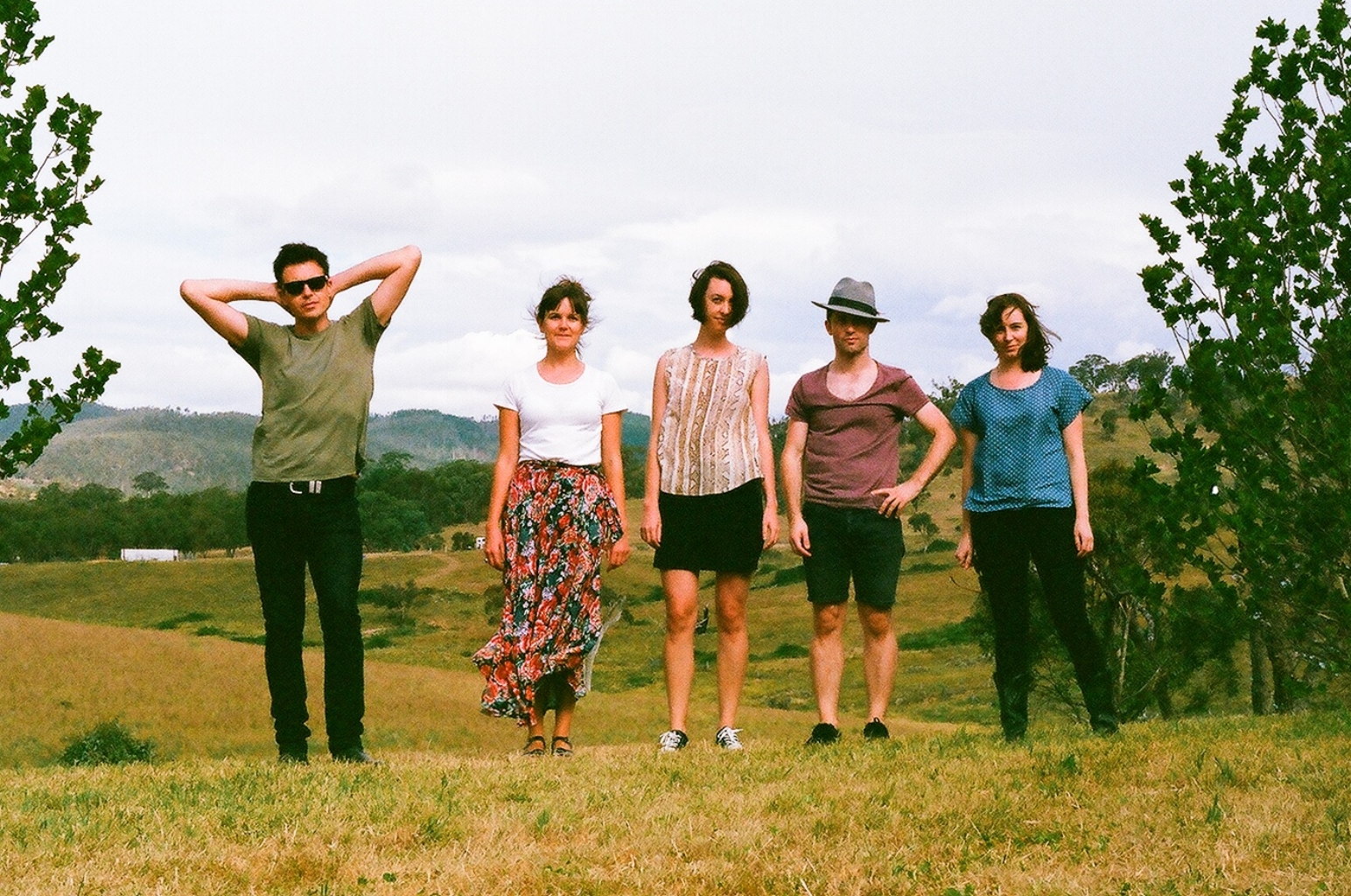 After
Full group 'After' shot.... do we look different?? A little less fresh I suppose.. Also a little more posed but that's because we had to use a timer for this one.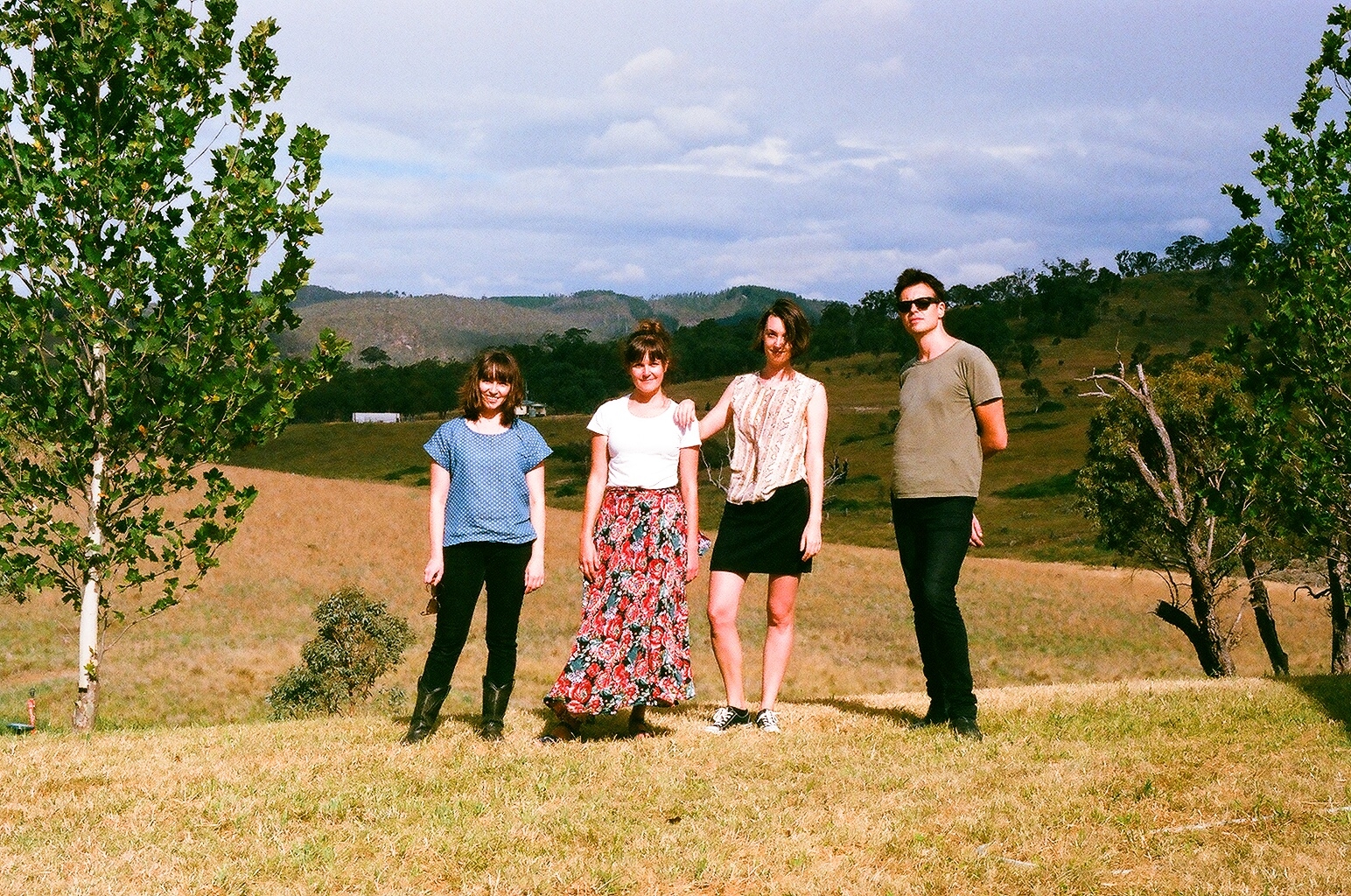 Imperial Broads
Liam took this one of us. It's no perfect promo shot but it makes me happy. Standing in order of height was hilariously accidental!
We hadn't quite finished the album when our time was up here; a few guitars and vocals still to be done. We finished those over the Easter Long weekend in two of our parent's homes. The long process of mixing, mastering and self releasing then followed... Who Are We Turning Into? was officially released on 4th November 2016 with three singles and three home-made clips to accompany. One day I'll put together some BTS photos and outtakes from our fun times making clips.
A few extra digital camera shots below for you to peruse at your leisure.